Our Ministerial Staff
Ordained Clergy:
The Ven. William G. McLoughlin

Rector
Fr. Bill, the founding Rector of this parish, was ordained Priest June 14th, 1983 in the Episcopal Church, USA and was later recieved into the Charismatic Episcopal Church on November 26th, 1995. In addition to his duties as Rector of this Parish, he serves as Archdeacon for the Diocese. Fr. Bill and his wife, Miranda, have one son, Christopher. Christopher and his wife, Amanda, have two children, Ruth and Gideon.
---
The Rev. Fr. Christopher E. Newcomb
Assistant Rector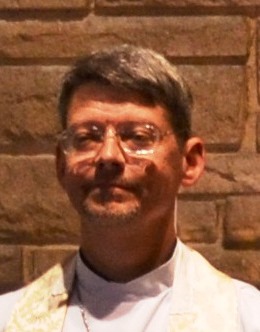 Fr. Chris was ordained Priest in the Charismatic Episcopal Church on November 30th, 2001. An honors graduate of St. Michael's Seminary, he is also a Physician Assistant and is active in the ministries of Healing and Intercession. His wife, Amanda, is the dance minister for the parish and founder of In His Steps Dance Ministry. Fr. Chris and Amanda have two children, Kaelea and Daniel.
---
Deacon Mack Bryan
Biography Coming Soon!
---
The Rev. Fr. David Winkle
Assisting Priest
Biography Coming Soon!
---
Amanda Newcomb
Dance Minister
Amanda Newcomb was born and raised in Johnson City, Tennessee. She grew up in the Episcopal Church, but came into the CEC in 1995. She began dancing at age 5, and dance has continued to be a part of her life. Her training took her to Chattanooga, Chicago, New York, and finally to Atlanta where she studied at the Ruth Mitchell Dance Studio. After two years of working on her dance career, she moved to Boone, NC to attend Appalachian State University. She graduated from ASU with a major in Commercial Art and a minor in Dance. It was there she met her husband-to-be, Chris Newcomb. In 1988 they were married and settled in his hometown of Asheville. Amanda taught at the Asheville Academy of Ballet and Contemporary Dance and performed with Ann Dunn & Dancers and add dance. Between June of 1994 and December of 1995, a daughter and a son were born to the Newcombs, and the Lord had Amanda take a break from dance. But not for long - in 1998, Amanda choreographed a piece for the Easter service at Church of the Resurrection. Later that year she attended the Teachers' Forum at Ballet Magnificat's Summer Program where God really got ahold of her and began paving the way for In His Steps, an outreach ministry of Church of the Resurrection.
---
Jack Nitterauer
Music Minister
Jack Nitterauer has been a musician his entire life and was schooled as a music major. He combines his Christian faith with his life-long professional musical experience to bear witness to God's truth through the art of Praise and Worship. Church of the Resurrection brings together modern contemporary worship and the richness of traditional hymnody, all woven into the liturgy, to offer a unique spirit led form of worship.